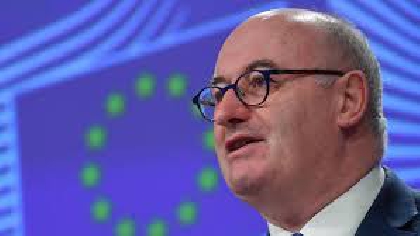 Two MEPs say the government's credibility has been so badly damaged by the refusal of Phil Hogan to stand aside, that a general election is needed.
Dublin MEP Clare Daly says the row's a "handy diversion" for the government, and a vote should be held immediately - a call backed her by Independents 4 Change colleague Mick Wallace.
But Social Democrats co-leader Róisín Shortall says a general election now would be "dangerous"
EU Trade Commissioner Phil Hogan has insisted that to the best of his knowledge he complied with Public Health regulations in Ireland during his visit.

He's published the memorandum that he provided to the President of the European Commission detailing his activities while he was in the country.
Commissioner Hogan was asked by Ursula von der Leyen to provide a report by lunchtime today on the timeline of his visit to Ireland and the Commission also suggested he make it public.

He highlights the fact he tested negatively for Covid 19 while in hospital in Dublin on August 5th, he says he was not under any subsequent legal obligation to self-isolate.

Commissioner Hogan says to the best of his understanding his visits to Kildare to obtain essential working documents or to get his belongings for the purpose of returning home to Brussels, constitutes a 'reasonable excuse' under the regulations.

He also confirmed he played golf in Adare in County Limerick on August 13th.

On the Oireachtas golf event Commissioner Hogan says he accepts the event should not have been held and he should not have attended the dinner.