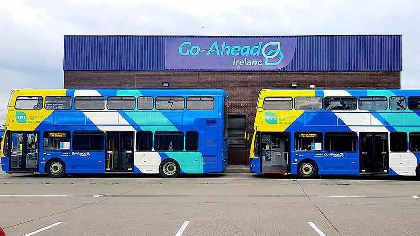 The British based company won the contract to operate 10% of routes previously operated by Dublin Bus, primarily in the outer Dublin metropolitan area.
These include the 45a and 45b which operate from Kilmacanogue to Dun Laoghaire, the 59 from Dun Laoghaire to Killiney Hill and the 63 and 63a from Dun Laoghaire to Kilternan.
Commuters have used social media to express their anger at what they say a decline in services in their area, where buses are either late or fail to show at all.
Meanwhile A new bus facility has opened in Kildare -- leading to the creation of 100 jobs.

Go-Ahead Ireland is expanding after securing a contract to operate six routes in the Dublin commuter area.

It's spent 4.5 million euro on developing a new facility in Naas, where most of the new jobs will be based.

They include bus-driving, supervising, management and engineering roles.
The Go-Ahead Group has aslso set itself the target to tackle a lack of gender diversity in public transport.

The firm's Irish arm operates about 30 bus routes in Dublin and Wicklow after they were transferred from state company Dublin Bus last year.

It wants women to make up 20 percent of its workforce by 2025.