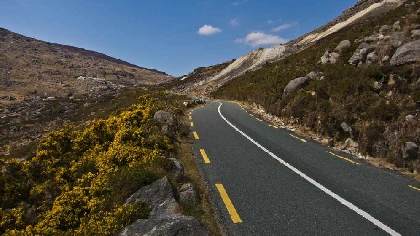 Over €12.5 million in funding has been announced for the maintenance of regional and local roads in County Wicklow.
It's part of a wider funding programme worth more than half a billion euro that will allow for thousands of kilometres of roads to be strengthened and maintained around the country.

The investment will also facilitate over 300 safety projects to be carried out.

Minister of State, Hildegarde Naughton, says the funding will be focused on improving the existing road network.

Wicklow Road improvement schemes to receive funding include:
R-755 Cunninghams Corner, Roundwood €48,500

R-747 On the R-747 between Woodenbridge and Augrhrim €48,000

R756 R756 from top of Wicklow Gap to Hollywood (Blessington Area) €73,000

R-752 On the R-752 at Avoca €14,000

R-747 On the R-747 between Arklow and Woodenbridge €6,500

R-752 On the R-747 between Rathdrum and Laragh €6,500

R-755 Annamoe Village Centre €8,500

R-750 Magheramore €16,000

L-1048 Woodstock Road €21,000

L3221 Carnew to Clonegal Road at Glennashouk (Tinahely Area) €10,000

R725/L7227 Coolattin Road, Carnew (Tinahely Area) €25,000

L-2196-68 Bearnacle National School, Johnstown, Arklow €8,500

L-2197-0 Ballycoog National School, Johnstown, Arklow €5,000

L-1020 Road approach to each side of a school crossing at Powerscort National School on the Cookstown Road, Enniskerry €7,000

R-761 Knockroe, Kilcoole Road €30,000
Bridge rehabilitation projects to receive funding include:
BALLYSHEEMAN BRIDGE €15,000

BALLYKEANE BRIDGE REDCROSS €15,000

BALLYROGAN BRIDGE €15,000

TEMPLERAINEY BRIDGE €15,000

THE GULLET BRIDGE €17,500

SHEANNA MOR BRIDGE €15,000

BALLYMORRIS BRIDGE €25,000

RODDENAGH BRIDGE, AUGHRIM €17,500

POTTERS RIVER BRIDGE €25,000

BALLINACLASH BRIDGE €15,000

BOLEY BRIDGE SHILELAGH ROAD €15,000

KILABEG BRIDGE COOLKENNA €20,000

GLEN ROAD BRIDGE HOLLYWOOD €20,000

CLOUGHLEA BRIDGE €45,000

SALLYS BRIDGE €64,000