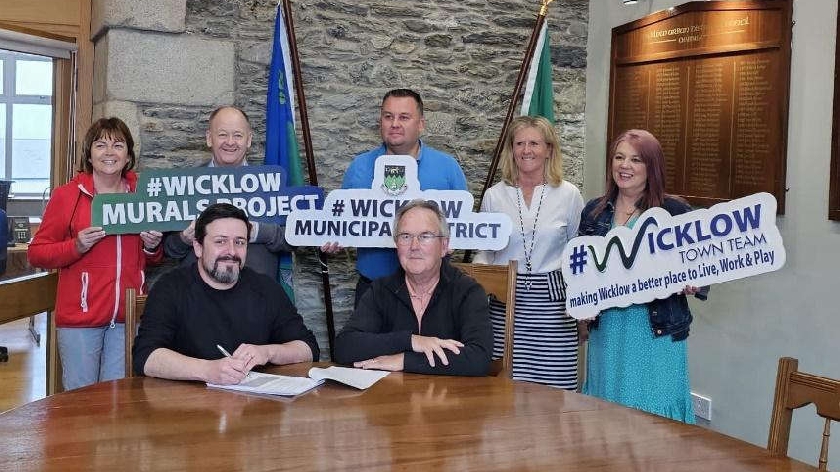 Wicklow Town Team was established in 2017 with a mission to make Wicklow town a better place to Live, Work and Play.
Wicklow Town Team (WTT) & Wicklow Municipal District (WMD), in conjunction with The Walls Project (TWP) are delighted to announce an open call for multidisciplinary artists, who have a speciality in working with 'large scale public realm murals' to be part of the creation of five murals in Wicklow Town. While this call is open to local, national and international artists, all artists applying must be able to demonstrate a 'proven track record showing their experience and ability to work on this scale'.
Titled the 'Connectivity' project, placemaking is a central part of this initiative. The overall essence of this project is to reanimate and revitalise the important links between the main street of Wicklow Town to the south quays, harbour & market square, which are all fast becoming increasingly popular with locals and visitors alike as a place to sit, dine or drink coffee. The selected locations are The Doctors Steps, Salthouse Lane, Quarantine Hill, Market Square and the Scouts Hall. Following the submission period, the chosen artists will be invited to respond to an overall theme of 'Maritime' with their inspiration highlighting a reflection of Wicklow's Town heritage and historical links to the Irish Sea.
The project will be managed by Waterford based creative arts agency, The Walls Project who have vast experience of community arts projects and have a rich proven track record in the creation of numerous murals in Waterford City.
Speaking at the launch of the open call WTT Chairman, Dave Shannon stated –
'We are exceptionally excited to see this project come to life and encourage all artists who can work on this scale to apply. By the creation of these maritime inspired murals, the aim of WTT & WMD is to highlight the important linkage lane ways from the main street of our town, to the south quays and so create a better footfall flow through these areas to act as a vehicle to increase visitor numbers. The expectation is that through the creation of the 5 murals, they will help boost the tourism offering of the town itself, while equally working towards building a strong sense of local pride among the community that live here.

On completion, a mural trail will be created that will also link into the Historical Walking Tour which was another WTT project launched two years ago'.
Inspiration for design briefs will be collected via community and stakeholder engagement workshops and artists can find details about the open call online at www.wallsproject.ie/commissions. The artists call out timeframe runs between Tuesday 30th May and closes 12pm on Monday 5th June 2023.
Shortlisted artists will be announced Monday 26th June on all digital channels. More information on the application process can be found by contacting Kerri Haberlin, Administrator at kerri@wallsproject.ie.