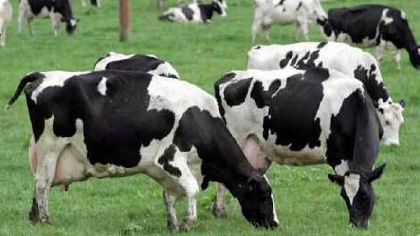 The Irish Farmers Association say they'll continue staging protests until there's a substantial increase in beef prices.
The latest 12-hour blockade has been taking place outside Tesco's main distribution centre in Donabate, north county Dublin.

The company says the action is regrettable.

Aldi on Thursday, Lidl on Friday - and today, it was a Tesco distribution centre that was the target of the latest IFA protest.

Products are usually driven from this hub - which is the size of 10 football pitches - to the chain's stores across the country.

Today's demonstration is part of the long-running dispute over beef prices.

On Friday, one of the largest beef processors in the country - ABP - announced it would increase the base price it pays for cattle from today.

But the IFA says the suggested rise of between 5 and 10 cent a kilo isn't enough.

The organisation says more protests will follow unless there's a significant price increase.
The IFA previously said it was disappointed to walk away from the Beef Market Taskforce meeting without a price increase for beef farmers.The group called for an immediate and significant price increase to the amount they are being paid for beef products.

The Taskforce, which was forced to adjourn proceedings two months ago following a confrontation between farmers and meat industry representatives.
Farmers were calling for the Beef Market Taskforce to meet as soon as possible after court injunctions against two protesting beef farmers were dropped by a Longford based pet food company.
The injunctions against Fine Gael Councillor, Paraic Brady, and local carpenter Colm Leonard, had led to farmers blocking off large parts of Dublin city centre in protest.