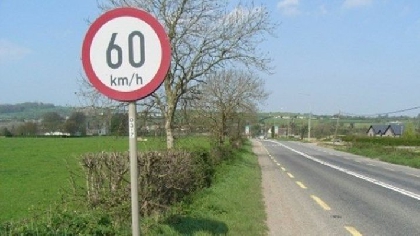 Go Safe vans detected 1,072 vehicles travelling in excess of the applicable speed limit.
Notable speeds include
91km/h in a 80km/h Zone on the R772 Ballinameesda Upper Wicklow
71km/h in a 60km/h Zone on the R750 Merrymeeting Rathnew Wicklow
59km/h in a 50km/h Zone on the R755 Ashtown /Ballinafunshoge Roundwood Wicklow
121km/h in a 100km/h Zone on the N11 Kilmurry North Kilmacanoge Wicklow
The aim of the day was to advise motorists to watch their speed and save lives.

On Dublin's M50, one driver was caught driving at 202 kilometres per hour.

Gardai say this person now faces a hefty fine and could also be disqualified from driving.

Meanwhile, in Tipperary, a person driving on a regional road in East Clonmel was clocked driving almost twice as fast as the 50 kilometres per hour speed limit.

So far this year 57 people have lost their lives on Irish roads.

It's 6 more deaths recorded in the same period last year.