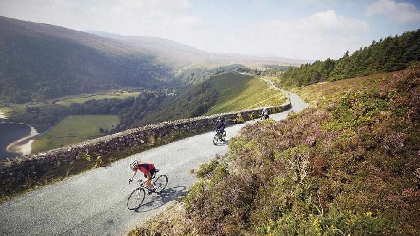 Over 25 events are planned in Wicklow for National Bike Week 2022 which begins on Saturday, May 14th and runs until Sunday May 22nd. The theme for this year is 'Click into Gear'.
n partnership with the National Transport Authority, Bike Week is a celebration and promotion of the benefits of cycling. Cycling, as a mode of travel, is on the increase with more people choosing to cycle for shorter journeys, making it more important to have your bike in working order.
To coincide with all of these activities, beginner and intermediate Bike Maintenance Workshops will be taking place in Blessington, Greystones and Wicklow Town.
These workshops will teach cyclists how to change tubes and tyres, tune the gears on their bike and how to make adjustments to their brakes, so they work and feel right specified to their needs.
Each participant will leave the workshop with a free puncture repair kit and tyre lever.
Spaces for each event can be booked via the Wicklow Sports Partnership Eventbrite. For a full schedule of events and links to booking check out www.wicklowlsp.ie
Bike Week 2022 Schedule
Ongoing
· Virtual Pedal for Your Medal
Saturday, May 14th
· 10AM Social Cycle – The Sports Room, Wicklow Town
· 10AM Learn to Cycle – Baltinglass
· 10:45AM Learn to Cycle – Baltinglass
· 1PM Learn to Cycle – Tinahely
· 1:45AM Learn to Cycle – Tinahely
Sunday, May 15th
· 12PM Family Cycle – Russbourgh House
Monday, May 16th
· 7PM Cycle to Zen – The Avon, Blessington
Tuesday, May 17th
· 10AM Cycle to Zen – The Avon, Blessington
· 10AM Cycle to Zen – Bandstand, Bray Seafront
· 6:15PM Beginners Bike Maintenance Workshop – The Sports Room, Wicklow Town
· 5PM Bike Maintenance Workshop – Meridan Shopping Centre Greystones
· 7PM Beginners Bike Maintenance Workshop – The Avon, Blessington
Wednesday, May 18th
· 10AM Cycle to Zen – Burnaby Park, Greystones
· 6PM-8PM MTN Bike Taster Session – Carrick MTN, Glenealy
· 5PM-7PM Fatbike Adventure rentals – Belmont, Bray
· 7PM Cycle to Zen – The Avon, Blessington
Thursday, May 19th
· 3:30PM Child and Family Cycle – Russbourgh House
· 7PM Intermediate/Advanced Bike Maintenance Workshop – The Avon, Blessington
· 6:15PM Beginner Bike Maintenance Workshop – The Sports Room, Wicklow Town
· 5PM-7PM Fatbike Adventures rentals – Belmont, Bray
Friday, May 20th
· 10AM Cycle to Zen – The Avon, Blessington
· 7PM Cycle to Zen – Burnaby Park, Greystones
· 5PM-7PM Fatbike Adventures Rentals – Belmont, Greystones
Saturday, May 21st
· 10AM Social Cycle – The Sport Room, Wicklow Town
Sunday, May 22nd
· 12PM Family Cycle – Russbourgh House along the Blessington Greenway