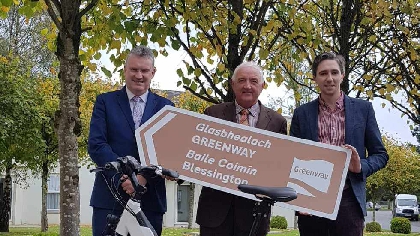 €5 million in government funding has been allocated for the development of the West Wicklow Greenway. 
The greenway will cover 42.4kms of walking and cycling trails, mostly through the forest and woodlands, showcasing the areas around Poulaphouca Reservoir.
The E-greenway will aim to provide a world class sustainable experience for visitors with the addition of E-Bikes and charging points along the route as well as solar powered charging points for other electric vehicles.
The route is currently 6km in distance, linking the town with Russborough House and the extension will incorporate the villages of Lacken, Ballyknockan and Valleymount.
An independent assessment carried out in 2014 concluded that the annual revenue from the Greenway has the potential to generate €7m to the local economy.
Wicklow TD and Minister of State Andrew Doyle has welcomed the funding boost to the West Wicklow area.
The announcement comes as part of a funding allocation of €40 million for 10 greenway projects nationwide.