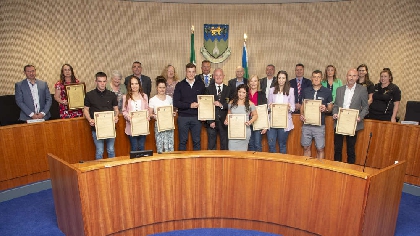 Wicklow Municipal District hosted a Civic Reception on Monday 22nd May to honour 12 sporting groups and individuals in the district for their outstanding contributions to sport. 
The individuals honoured at the event were:
Wicklow Surf Lifesaving
Wicklow Ladies Rugby Team
Sheena Doyle – powerlifting
Catherine O'Connor – athletics/running
Adam Sinnott – boxing
Annmarie Kenny – athletics/running
Ray Kenny – athletics/running
Dominic Horan – athletics/running
Josh Van de Flier – rugby
Fionnuala McCormack – athletics/running
Amy Davies – badminton
Mason Melia – soccer
Chief Executive of Wicklow County Council, Emer O'Gorman, said: "Wicklow is a county with a rich and proud sporting background. I am delighted to be celebrating such a range of diverse sports this evening. Few counties have the wealth of resources Wicklow has available within such close proximity, the sea, the rivers and our mountains. These resources are part of what makes Wicklow a haven for Outdoor Recreation. Sporting clubs form the backbone of almost every community in this county".
Brian Gleeson, Wicklow Municipal District Manager, gave an overview of each award recipient outlining the achievements being recognised. He stated that "this is the first civic reception held by Wicklow Municipal District in a number of years due to the Covid 19 Pandemic. I think it is very appropriate that we are recognising sporting achievements here today as sport played a crucial role in helping people to get through the lockdown period. Whether it was playing sport or watching sport on the TV, it really was a Godsend during that challenging period, and it highlights the positive impact of that sport and exercise has our physical and mental wellbeing."
Wicklow Municipal District Cathaoirleach, Cllr Paul O'Brien, said he was delighted to make these presentations to each recipient adding that it was a truly memorable event to honour such a variety of sporting giants within the Wicklow Municipal District. He added: "Each and every one of you should be so proud of your accomplishments, you are our inspiration. But as we all know you don't just turn up and compete on the day, you put so much more in. You all know only too well the efforts you make, the sacrifices you endure to get to where you want to, this journey is never easy, but it is always worthwhile and we commend you all for this."
"We cannot forget today your families and supporters, we must also recognise them, for we all know how they make their own sacrifices so that you can succeed. Remember what Muhammad Ali said 'I hated every minute of training, but I said, Don't quit. Suffer now and live the rest of your life as a champion.' I can honestly say you are our champions."