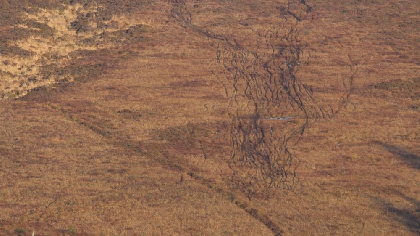 Two men have been convicted and fined for using scrambler bikes illegally in the Wicklow Mountains.
They entered into the Wicklow Mountains Special Area of Conservation and travelled an estimated 7km across protected habitat causing damage to the vulnerable blanket bog habitat.
Mr. Chris Teasdale of Corragh County Wicklow and Mr Colm Flynn of Crosschaple in Blessington pleaded guilty to breaches of the European Communities (Birds and Natural Habitats) Regulations
.The lands are protected and the recreational use of as scramblers and quads, is prohibited.
Both men pleaded guilty to comply or obstruct an officer in the exercise of their duties.
A National Parks and Wildlife Service Ranger represented the Minister and outlined the evidence to the court and highlighted how damaging scrambler bike use can be to the fragile habitats in the SAC.
District Court Judge Geraldine Carthy convicted the men on both counts and said in this instance she would not impose a custodial sentence but imposed a fine of €1,000 for the first matter and €500 for the second matter for each of the men.
Judge Carthy also awarded costs of €1,500+VAT to be shared.