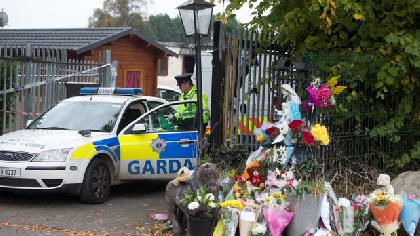 An inquest has found that ten people who died in a fire at a halting site in south Dublin in October 10th 2015 died by misadventure.
The jury also found that the victims, who were from two traveller families, died from carbon monoxide poisoning as a result of the fire.
Death by misadventure is an accidental death where there's an element of risk involved – in this case, a chip pan left on a cooker in a mobile home.
Nine people died when Thomas Connors' caravan burned down and his 6mth old daughter was later pronounced dead after being taken from her cot and brought to another unit, which also caught fire.
There was a round of applause in court when the jurors acknowledged the bravery of a teenage boy who rescued his nephew from the blaze.
The jurors also made a number of recommendations including that safety considerations take priority when placing units on a site and that a safety champion be nominated for sites to check fire fighting equipment.
Most importantly, they also recommended that new fire safety guidelines introduced in the wake of the tragedy be implemented as best practice.
In a statement, Dun Laoghaire Rathdown County Council acknowledged the verdicts and said its thoughts were with the surviving family members.