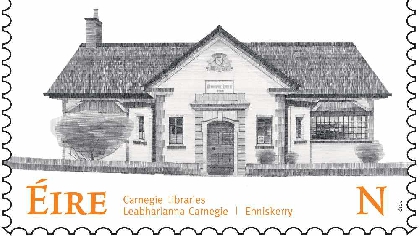 The stamp is one of a series launched to celebrate four libraries around the country founded by the Scottish philanthropist Andrew Carnegie on the centenary of his death.
Between 1897 and 1913, Carnegie pledged over €179,000 to pay for the building of some 80 libraries in Ireland, 60 of which are still in operation today.
Enniskerry's Carnegie Library on Church Road was opened in 1911 and is one of thee in the county- the others located in Bray and Greystones.
The illustrations and stamps will now go on display at Pearse St Library in Dublin and are available online at irishstamps.ie