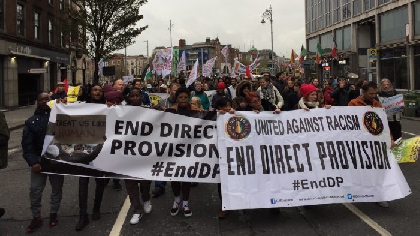 Five out of 83 direct provision centres around the country are over capacity, while a large majority are close to being over subscribed.
According to figures from the Department of Justice published in the Irish Times, centres in Meath, Laois, Cork and Clare were housing more people than agreed, with an extra 19 people in the former holiday village in Mosney in Louth.

By the end of last week, 5,928 men, women and children were living in direct provision - while 202 people, who have recently arrived, were living in temporary accommodation.
The owner of The Grand Hotel in Wicklow Town says the venue remains open for bookings and events in theory, but there is simply no business left to justify continuing to trade.
The statement from Adrian Shanagher comes following the decision to turn the premises into a direct provision centre.
The hotel has ceased all public operations due to a lack of commercial interest.
It emerged in November the hotel would no longer be able to accommodate visitors to the town as the Department of Justice had to find alternative accommodation with direct provision centres now at full capacity.
Over 200 people attended a public meeting in the town voicing their opposition to the move.
The Irish Refugee Council has defended the opening of the centre on the hotel premises