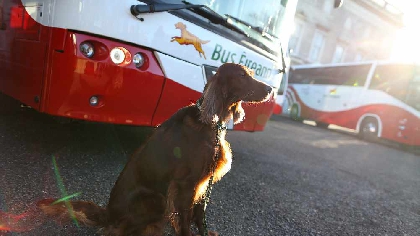 From Tuesday 6 June, Bus Éireann's Expressway Route 2 will add morning and evening services through Arklow.
The change has been licenced by the National Transport Authority and is subject to final approvals from Wicklow County Council.
Departing Wexford town at 5.50am, the service will pick up in Arklow at 7.00am, arriving at Dublin's Custom House Quay at 8.10am, and at Dublin Airport at 8.30am. Expressway runs between Arklow and Dublin on an hourly basis between 7.00am and 6.15pm, with the last departure at 8.30pm.
The 5.00pm departure from Dublin airport will leave Busáras at 5.30pm and arrive in Arklow at 6.40pm.
Expressway services depart Dublin airport for Arklow every hour from 10am to 7.00pm, with the last departure at midnight.
Between Arklow and Dublin, the standard adult return fare is €22.20 when booked online at expressway.ie. A 10 journey ticket is €73.00, or €14.60 for a return journey.
People aged between 19 and 23 years with a Young Adult Leap Card can buy return tickets online for €11.80.
A Taxsaver monthly pass between Arklow and Dublin costs €210, and includes all travel within the Greater Dublin Area yellow, blue, green and red zones. For customers paying the higher rate of tax, a saving of 52% means that a monthly ticket would effectively cost just €100.80.
Tickets can be booked at expressway.ie, offering a 5% discount and guaranteed seat.