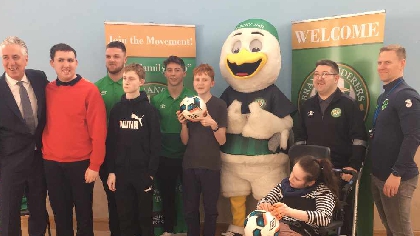 Bray Wanderers will be part of a new inclusion Programme aimed at supporting disabled people accessing league of Ireland sporting venues.   
Bray Wanderers FC have unveiled its "Access Is For All" inclusion Programme – overseen by the FAI in conjunction with the Centre for Access to Football in Europe .
The programme is aimed at supporting disabled people, who form the largest minority group in society; there are over 1 billion disabled people – or more than 15% of the global population. One in four Europeans has a disabled family member, while 60% know someone with a disability.
Every League of Ireland club nominated an official to attend a training course to become a Disability Access Officer. The aim of this official's new role is to assist patrons with additional needs, to more easily attend League of Ireland games throughout the country.
Bray Wanderers have appointed Padraic Moran a long-time supporter of the club, a two-time Paralympian and a former Boccia World Champion to become an Officer in Bray
The club website will have a dedicated Accessibility Page; a free season ticket will be offered to any supporter with additional needs. There will be an enclosed viewing area (with blankets, if required); plus nearby accessible parking, dedicated entrance on match night, and accessible toilets