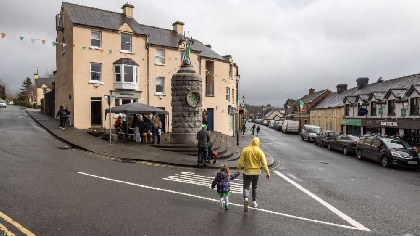 An Aughrim town centre regeneration project has been selected for the Irish Architecture Foundation's Reimagine Hometown Architect initiative
The programme focuses on the revitalisation of Ireland's towns and villages and comes with the support of €10,000 per project.
The Hometown Architect programme connects architects with community organisations to reimagine aspects of their built environment.
The funded project, called 'Suppose a Stone', includes developing a pathway to make Aughrim, more accessible for all ages and abilities, and for multiple species.
The team includes the not-for-profit contemporary art space Kunstverein Aughrim, Aughrim Tidy Towns, Aughrim Active Retirement Group and architect Jenny O'Leary.
The Aughrim project is one of five around the country selected by a panel of experts following an open call that invited community groups and an architect who has a connection to their town or village to partner on and submit a regeneration project proposal that aligns with the Government of Ireland's Town Centre First Policy.
The Town Centre First Policy aims to promote the regeneration of town and village centres across Ireland and to create town centres that function as viable, vibrant and attractive locations for people to live, work and visit.