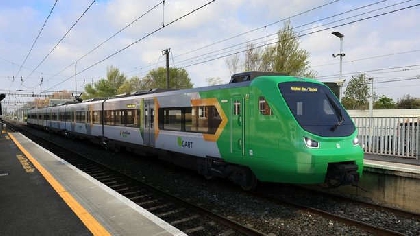 The new carriages will be used to expand the DART system into the greater Dublin area and eastern region.
Good news for Cork. Cabinet today approved the purchase of 90 new battery electric carriages for delivery in 2026. They are ear-marked for the new metropolitan rail network we are planning for Cork, as well as providing new services to Wicklow town, Kildare and on the Dart lines. pic.twitter.com/gItTemffLc

— Eamon Ryan (@EamonRyan) November 29, 2022
It will in part facilitate the roll-out of DART-plus to Drogheda, Maynooth and Celbridge/Hazelhatch.
Project

Serving

Update

Next steps

DART+ Fleet

All DART+ routes above, with potential for deployment elsewhere on network subject to charging infrastructure

95-carriage order December 2021; funding for further 90-carriages confirmed today

First carriages arrive 2024, enter service from 2025

DART+ West

Maynooth/M3 Parkway to City, including new depot West of Maynooth

Railway Order application submitted July 2022

An Bord Pleanála Oral Hearing to be scheduled

DART+

South West

Hazelhatch to Heuston and Phoenix Park Tunnel

Second public consultation complete

Railway Order application early 2023

DART+

Coastal North

Connolly to Drogheda

First public consultation complete

Second public consultation early 2023

DART+

Coastal South

Connolly to Greystones

Emerging preferred option being developed

First public consultation commences early 2023
Further information on the DART+ Programme can be found at the link below:
DART+ About Dart+ (dartplus.ie)
New Rail Carriages
41 new intercity railcars are arriving into Ireland currently and they will enter service across the Irish rail network in 2023, increasing peak time capacity on intercity services compared to today.
In December 2021, an order for 95 new DART carriages, consisting of 65 battery-electric and 30 electric carriages, was approved by Government as part of the DART+ Fleet and these carriages should enter service in 2025.
The order announced today, as outlined above, is related to the DART+ Fleet and will add a further 90 battery-electric carriages, expected to arrive in 2026.