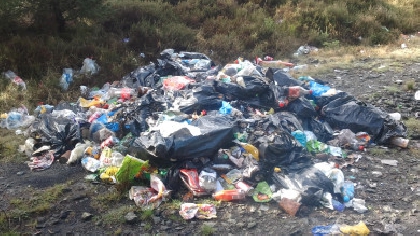 Mywaste.ie has been set up in a bid to tackle illegal dumping.
The move comes after figures show there's been a 50 per cent increase in funding aimed at tackling illegal dumping.

Local authorities are now able to bid for money to buy drones, run bulky waste collection events and clean up black spots.

An additional 3 million euro for the Anti-Dumping initiative has also been announced.

Local authorities can apply for the funding to tackle fly-tipping in their locality.

That can be anything from erecting fencing to purchasing drones to monitor and gather evidence.

The funding can also be used for awareness campaigns, preservation projects and develop a dumping database.
13 tonnes of illegal waste have were removed from the Wicklow/Dublin uplands in the first three weeks of this year alone.
The Pure project says the post-Christmas period saw a lot of dumping in the county, receiving over 70 reports since the start of 2019.
The project is a partnership between a number of statutory and non-statutory organisations including Wicklow and Dun Laoghaire