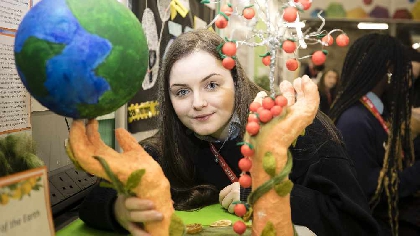 This January, 550 projects and hundreds of students will represent their school and community at the 2024 BTYSTE.
BT Ireland has today revealed the top themes emerging from the project entries for the 2024 BT Young Scientist & Technology Exhibition. The data shows that secondary school students from across the island of Ireland are interested in learning more about AI, diversity & inclusion and mental health. This January, 550 projects and hundreds of students will represent their school and community at the 2024 BTYSTE.
Of all the submissions for the 2024 exhibition, the most common project titles are focused on health (16%); mental, menstrual, sleep, medicine, ageing, behaviour. Mental health project entries covered a broad range of topics, such as beauty standards, sports performance, exercise and sleep. 2% of all entries specifically investigated the health and environmental implications of vaping, which suggests the awareness and concerns of young people around vaping.
AI accounted for 4% of all entries, with projects looking at how programmes such as Chat GPT can be used effectively in education and health. Diversity & Inclusion was another topic of interest for students this year. Of all entries, 3% focus on developing apps and technology to help improve the daily lives of those with physical disabilities. Neurodiversity (autism, in particular) was another emerging theme, suggesting growing interest from young people in the ways that technology can improve the lives of neurodivergent people.
Similar to previous years, the environment continues to be a strong trend within entries, with 11% of all projects covering the topic, from ways to become more sustainable, to environmentally friendly farming practices, microplastics, natural fertilisers and even fast fashion.
Young peoples' interest in sport remains high, with 9% of projects investigating topics ranging from sports injuries to performance, as well as the use of technology within sports, gender, and mental health. Furthermore 6% of all projects also delve into education, investigating areas from mental health to academic success, innovation, and the use of apps and devices within classrooms and learning environments.
Schools who entered the 2024 BTYSTE were notified of results on Wednesday, 25 October, 2023. From January 10 to 13, hundreds of students will showcase their innovative ideas in the areas of Social & Behavioural Sciences, Technology, Chemical, Physical & Mathematical Sciences, Biological & Ecological Sciences, and a brand-new category being introduced for 2024, Health and Wellbeing.
Minister for Education, Norma Foley TD said:
"It is fantastic to see the level of engagement by students in the BT Young Scientist & Technology Exhibition 2024. It is an absolute highlight of the school calendar each year. The interest from students in health-related topics demonstrates young people's interest in that area, and it's great to see that the BTYSTE has created a new category for the 60th exhibition next year, 'Health and Wellbeing', that will enable secondary school students to explore that interest further. I am looking forward to visiting the Exhibition in January to see the exceptional ideas and innovations being showcased by students across Ireland. I wish to congratulate each and every student who has submitted a project to the BTYSTE, along with their teachers and parents who have supported them throughout the process."
| | | | | |
| --- | --- | --- | --- | --- |
| Wicklow | Avondale Community College | Mind Your Mind – Mental Health: Who, When and Why? | Health & Wellbeing | Group |
| Wicklow | Avondale Community College | Does exercise affect your memory? | Social & Behavioural Sciences | Group |
| Wicklow | Colaiste Chraobh Abhann | Are you paying attention? | Social & Behavioural Sciences | Group |
| Wicklow | Colaiste Chraobh Abhann | To what extent does post-exercise exhaustion impact memory retention? | Health & Wellbeing | Group |
| Wicklow | Gaelcholáiste na Mara | Beet It: Anailís ar éifeachtaí an sú biatais ar bhainistiú siomptóim asma. | Biological & Ecological | Group |
| Wicklow | Greystones Community College | Aero Dog | Technology | Individual |
| Wicklow | Greystones Community College | Creation of a Wormhole through Quantum Field Interactions | Chemical, Physical & Mathematical Sciences | Individual |
| Wicklow | St Marys College | Deodorant 101- A Solution to Pollution | Biological & Ecological | Group |
| Wicklow | St Marys College | Vit Fit Teens! | Biological & Ecological | Group |
| Wicklow | St Marys College | Combating Homelessness: How Can Water Help? | Social & Behavioural Sciences | Group |
| Wicklow | St Marys College | I'm too texty for My Car | Social & Behavioural Sciences | Group |
| Wicklow | St Marys College | A statistical analysis of the lasting impact of Governments Covid's protocols on adolescent social anxiety and social isolation which is reflected in absenteeism at post primary level. | Social & Behavioural Sciences | Group |
| Wicklow | St Marys College | Housing Crisis- Could Retirement Be The Key? | Social & Behavioural Sciences | Individual |
| Wicklow | St. Gerard's School | stopping the spread of suicide amongst teens due to social media | Technology | Individual |
| Wicklow | Woodbrook College | Does our menstrual cycle affect our physiological traits? | Biological & Ecological | Group |