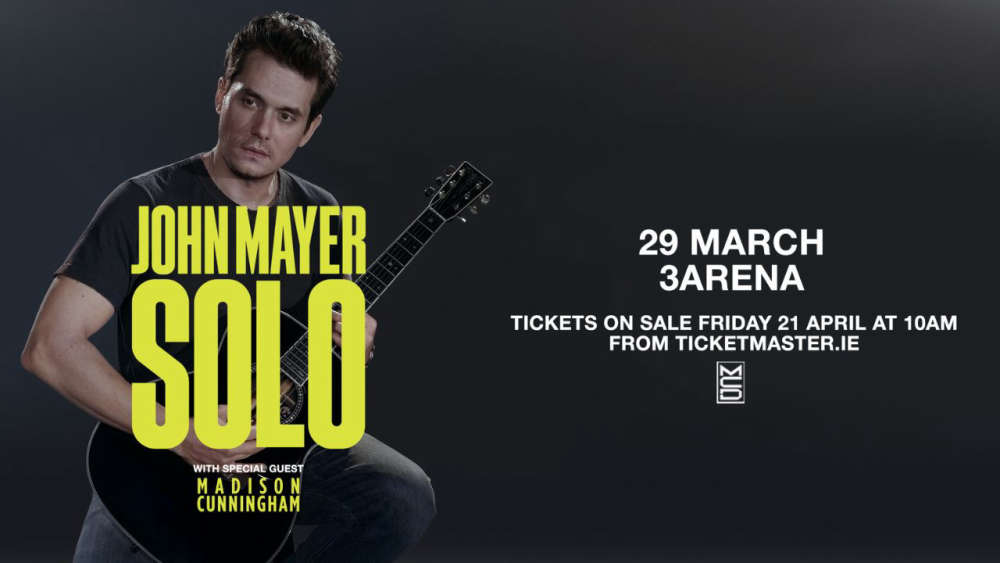 "Win them before you can buy them"
East Coast Afternoon with Tommy Greene 17 -- 21 April
JOHN MAYER SETS EUROPEAN CONCERTS FOR HIS SOLO ACOUSTIC ARENA TOUR
FRIDAY 29th of APRIL 2024 3ARENA
Plus special guest Madison Cunningham
Tickets On Sale Starting Friday, 21 April, at 10 AM
Due to the tremendous success of his current and groundbreaking solo acoustic tour in the U.S., trailblazer John Mayer has set a 2024 European leg launching 15 March in Oslo, Norway at Spektrum and will run through 29 March in Dublin, Ireland at 3Arena.
The highly acclaimed tour, produced by Live Nation, features solo performances by Mayer, leaning heavily on his acoustic guitar work with special performances on piano and electric guitar, in arenas throughout Europe.
Known for an effortless blend of mind-blowing guitar playing, soulful voice and impeccable songwriting abilities, Mayer has lit up the charts with numerous massive hits such as "New Light," "Gravity," "Love on the Weekend," "Heartbreak Warfare," "Daughters," "Waiting on the World to Change," "Last Train Home," and "Your Body Is a Wonderland." The 2023 tour has been 20 years in the making and will feature rare, full acoustic sets from John Mayer performing these songs, and many more.
The U.S. tour launched on Saturday, 11 March, in Newark, NJ to rave reviews:
"The results were nothing less than breathtaking, two hours of raw, peerless wonder." -Asbury Park Press
"…this night was a well-deserved reward. The room felt small, like a rehearsal space, like a private showcase only intended for friends and family." -NJ.com
"But what is very clear is Mayer's ability to make an arena feel intimate with his song catalogue and gifts as a musician." -Music Radar
"(John Mayer) has never been more sentimental or more vulnerable, and he's never felt so personal on stage." -Live for Live Music