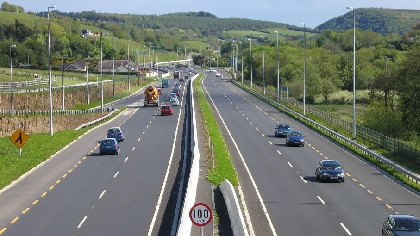 Wicklow County Council, in partnership with Dún Laoghaire-Rathdown County Council, Transport Infrastructure Ireland and the National Transport Authority (NTA) are progressing the N11/M11 Bus Priority Interim Scheme
The overriding objective of the scheme is to develop a proposal for the provision of bus priority measures (in both directions) on the N11/M11 national road.
Priority facilities can be used by buses/coaches to avoid congested traffic lanes and help to reduce the current unsustainable dependency on the private car.
The scheme developed separately to the N11/M11 Junction 4 to Junction 14 Improvement Scheme, offers a practicable interim solution for implementation in advance of the larger and more comprehensive scheme.
The area covers the section of existing N11/M11 route from Loughlinstown roundabout in Shankill to the north as far as Junction 9 (Glenview) in the south.
It is within this 11.6km length of the existing route that the option selection process has examined the viability, type and optimal extent of bus priority to be provided.
The public display documents are available to view on the project website.
This public display event follows a previous public display of the preferred BPIS proposals held in November 2022, details of which remain available on the project website
At the November 2022 Public Display, the preferred option for the scheme included the provision of bus priority measures along the following sections of the N11/M11 Corridor:
• Sub-Scheme A Northbound & Southbound – Loughlinstown Roundabout to Junction 6 (Bray/Fassaroe)
• Sub-Scheme C Northbound only – Junction 8 (Kilmacanoge) to Junction 9 (Glenview)
At the November 2022 display, it was noted that the successful delivery of bus priority with Sub-Scheme B (Junction 6 to Junction 8) presented a number of location specific challenges and constraints.
The Project Team gave a commitment to further examining the viability of delivering bus priority within Sub-Scheme B to identify the optimum solution to meet the project objectives.
Following further analysis and input from project stakeholders, a preferred option for the provision of bus priority measures within Sub-Scheme B has now been identified.