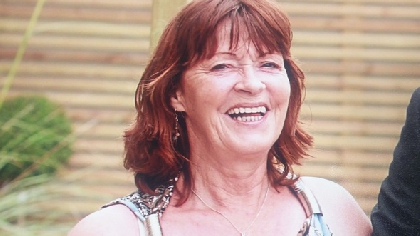 Patricia O'Connor died in 2017
Kieran Greene denies murdering 61-year-old grandmother Patricia O'Connor at the home they shared at Mountainview Park in Rathfarnham in May 2017.
Detective Janette O'Neill, an expert in the examination of crime scenes, told the jurors she examined all but one of the fifteen body parts at the locations where they were found over the course of four days in June 2017.

A thorough sweep, involving specialised Garda search teams and members of the Irish Defence Forces, over a 30km radius up the Dublin and Wicklow mountains began the day after members of the public found parts of a human torso in the area.

The trial heard hacksaws were found during a planned search of a park beside the River Dodder in Tallaght in January 2018.
In her opening address, the prosecuting barrister Roisin Lacey told the jurors they'd hear evidence that Patricia O'Connor died from blunt force trauma to the head and Det
O'Neill said she could see the fractures to the skull during an observation of the post-mortem. As a result, she said she formed the view that the 61 year old grandmother had met a violent death.

Kieran Greene is just one of four people on trial, but he's the only one of them charged with her murder. Three others, including her daughter Louise and granddaughter
Stephanie are on trial accused of impeding Mr. Greene's apprehension or prosecution.