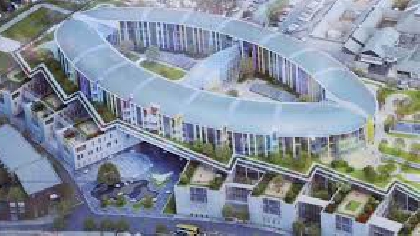 The Taoiseach has confirmed further cost claims have been submitted by the contractor.
The lead contractor for the National Children's Hospital - BAM - has also admitted it's behind schedule on certain elements of the construction.

The National Paediatric Hospital Development Board says the hospital is the largest and most complex construction project currently underway in Ireland - and that throughout the lifetime of the project, different aspects may be ahead or behind projected timelines.

BAM is now developing a revised programme timeline, which will set out measures to ensure the project stays on track.

Basement excavation and foundation works are said to be largely completed at the St James site. The mechanical and electrical fit out of the basement will commence this month.

Under the construction contract the hospital is scheduled to be completed by June 2022 and it will open in 2023, after a period of commissioning.
The cabinet has had to find 100 million euro out of the capital budget to meet the rising costs.

27 million of that will come from delaying the upgrades on the Dublin to Derry A5 road.

10 million will come from the budget for the National Forensic Science Lab while the Department of Education will bring forward a 10 million euro payment for a school on the site of the new hospital.
Meanwhile The Health Minister says he doesn't accept that there are delays to the construction of the new National Children's Hospital.

In a statement, the National Paediatric Hospital Development Board said that the main construction contractor is currently reporting to be behind on certain elements of the construction.

However, Simon Harris says the hospital is on schedule to be ready by 2022