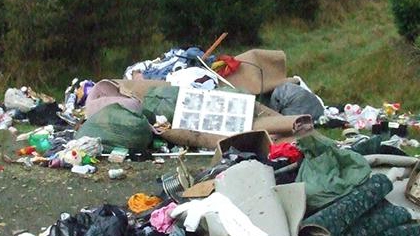 In total 44 cases of illegal dumping and 350 litter fines in Wicklow were before the courts in 2018 with a total of €22,420 being imposed in fines.
The highest fine levied was €2,500, which involved an individual dumping a skip bag of waste in Kilcarra in Arklow.
Three separate incidents of illegal burning of waste at Rathnew resulted in total fines of €1,200 while over a dozen bags of waste dumped opposite Ballywaltrim Cottages in Bray resulted in a total penalty of €900
The figures come after data provided by the Environmental Protection Agency shows that since 2015, the National Environmental Complaints Line has received more than 3,500 calls about issues ranging from noise pollution to illegal dumping.
While a small number of those were found in counties Donegal, Galway, and Tipperary, the vast majority are in the four local authority areas in Dublin and in the nearby counties of Kildare and Wicklow.
Environment Minister Richard Bruton set aside an extra 3 million euro earlier this year to help local authorities tackle the issue.
It's a 50 per cent increase in funding on last year.
The money will go toward increased surveillance using drones, and providing special collections for awkward items like mattresses. spreading awareness among young people and recognizing the work of volunteers can all play a role.
The Pure Project which was established to tackle illegal dumping in the Wicklow and Dublin uplands, collected 161tonnes of illegally dumped waste of waste last year.
Minister Bruton says the Government will be putting a special emphasis on targeting blackspots.
The 31 local authorities in Ireland took more than 850 prosecutions for breaches of environmental standards in 2018.
a new report from the Environmental Protection Agency focuses on local authorities' environmental enforcement performance in 2018.

It says councils increased their enforcement activities over the course of the year.

There were 168,000 inspections, along with 20,000 enforcement actions and more than 850 prosecutions.

Many of these prosecutions were taken because people didn't pay litter or waste fines.

Local authorities received 78,000 environment complaints - 90 per cent of which related to litter or waste.

The EPA says councils are performing well, but says more focus is needed to ensure people segregate their waste, to support better recycling.