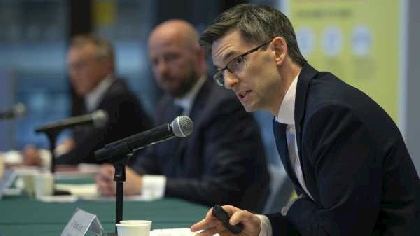 The total number of confirmed cases of coronavirus in the Republic of Ireland has risen to 237,187 with 4,378 cases in County Wicklow.
The Health Protection Surveillance Centre has today been notified of 8 additional deaths related to COVID-19.
4 deaths occurred in March, 4 in February.
The median age of those who died was 74 years and the age range was 51 - 94 years.
There has been a total of 4,713 COVID-19 related deaths in Ireland.
As of midnight, Thursday 1st April, the HPSC has been notified of 591 confirmed cases.
Of the cases notified today:
292 are men / 295 are women
72% are under 45 years of age
The median age is 31 years old
288 in Dublin, 40 in Kildare, 30 in Meath, 28 in Westmeath, 27 in Laois and the remaining 178 cases are spread across 19 other counties**.
As of 8am today, 264 COVID-19 patients are hospitalised, of which 62 are in ICU. 18 additional hospitalisations in the past 24 hours.
As of March 30th 2021, 840,561 doses of COVID-19 vaccine have been administered in Ireland:
603,802 people have received their first dose
236,759 people have received their second dose
Health officials are advising everyone to be aware of the risk factors for getting COVID-19:
·Distance – the risk of getting COVID-19 increases as the distance between you and others gets smaller. Keep 2 metres apart where possible
·Activity – How you spend time with people and what you do with them can increase your risk. Follow the government's Stay Safe Guidelines when spending time with others
·Time – The more time you spend in close contact with other people can increase your risk of getting COVID-19. Keep track of who you spend time with and how
·Environment – Being outdoors is safer than being indoors. Where possible, meet with others outdoors. If this is not possible, keep windows and doors open when meeting others inside
·Symptoms – Know the symptoms. If you have them self-isolate and contact your GP immediately
They are:
·a fever (high temperature - 38 degrees Celsius or above)
·a cough - this can be any kind of cough, not just dry
·shortness of breath or breathing difficulties
·loss or change to your sense of smell or taste
·flu like symptoms
"If you have symptoms of COVID-19, you must self isolate and phone your GP for further advice.
If you have been referred for a test or are awaiting a test result, you must self isolate.
If you are a confirmed case of COVID-19 you must self isolate for 10 days.
If you are identified or have identified yourself as a close contact of a confirmed case, you must restrict your movements.
Department of Health's COVID-19 Information Dashboard; providing latest case information.